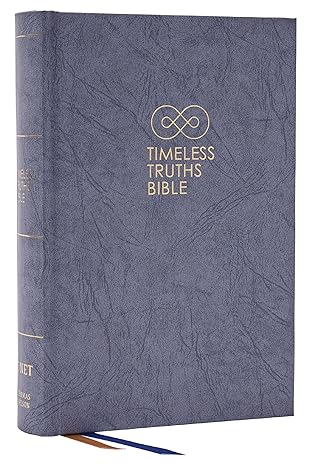 Once again, I have enjoyed the honor of receiving an advance copy of a Bible as a member of the Bible Gateway Blogger Grid. They requested only that I write an honest review of the Bible after receiving it. And once again, I have only good things to say about this Bible.
It is the New English Translation, which received extensive and thorough reviews as part of the process of the translation. It therefore is a wonderful combination of readability and accuracy.
The Timeless Truths Bible includes sections of commentary from various Christian historical figures. It also includes some information about some of these people.
I agree completely with the editorial staff of the Timeless Truths Bible that it is important to include the thoughts and understandings of these historical scholars and men of God. When working on a book or a sermon, I find that not only researching the original languages but also checking in with a commentary helps me to make sure that I don't get off track. Having this material included in the margins will be helpful for any reader.
You can get your own copy here.