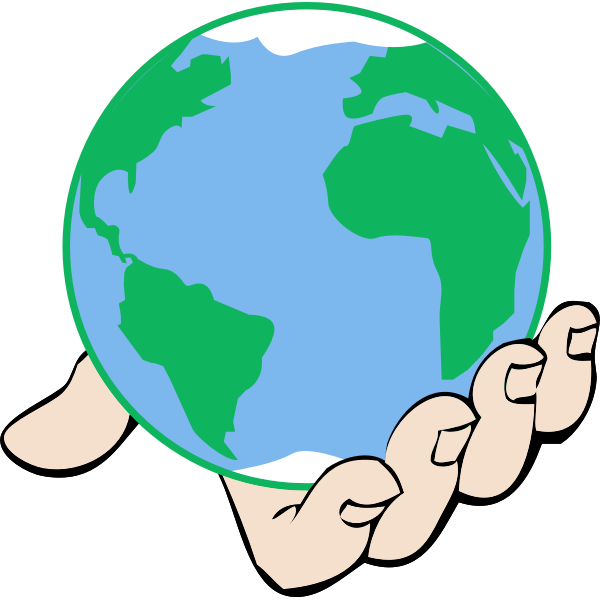 Remember the song we learned as children, "He's Got the Whole World in His Hand?" Well, it does have a basis in scripture. In Isaiah 41:10, we see God encouraging the Israelites by telling them that he will hold them up with His righteous right hand. Later, in Isaiah 49:16, as Zion is fearing that God has abandoned them, He tells them, "You are engraved on my hands." In John 10 verse 28 and 29 Jesus says that His sheep can not be plucked from His or God's hands.
I wrote, "How to be a Christian in Today's World: Shame or Fear of Failure vs. Living Confidently in God's Love" originally thinking just about how our culture encourages the feelings of being alone and far from God. Of course, the book grew to be much more, hopefully helping to provide a path to or back to
comfort in God's love.
But I thought I would share with you today a story 
of a woman who taught that to me in a very real way. In my teen years, I was drawn to Christianity. I grew up in a family that claimed Christianity, but we never went to church and I never had any guidance in faith. I went to ministry school and met my wife. She was a dedicated Christian and encouraged me in ministry. I worked full-time but kept busy in the church in one way or another. That was our life. We studied and were taught pretty much the whole Bible. And we loved classic hymns, praise choruses and even scripture memory songs.
We raised our daughter to sit through "big church" and taught her scriptures as part of a parenting method intended to help kids not just obey rules, but make good decisions based on a solid framework. That was our life.
One Christmas when my daughter was still a toddler, we felt like God was calling us to move across the country to be near my mother and grandmother. They had been living together for a number of years. My mom was doing all she could to work and keep house. As my grandmother aged, not only did she do less, including giving up on church altogether, but she became bitter and angry. As she did, it wore on my mom. I tried to minister to my mom and help her have a better outlook on life than the one that my grandmother was putting into her every day. It rarely made much of a difference and when it did, it didn't last long.
After a couple of years, we were drowning financially as the income to living expenses ratio was way off. Then when my wife's dad was called to pastor a church just 300 miles from us, we made the move too. I became the leader of the boy's program and the alternate preacher, and my wife ran the sound booth or was on the worship team.
A few years later, Mercy Me came out with the song, "I Can Only Imagine." The song really struck me as the lyrics questioned how the singer would respond when he got to heaven. We'd sung so many songs about going to the glory land, etc. I even had a line in the radio version of the hit book series "Left Behind." Heaven and eternity were things we'd thought about for so many years.
Shortly after my grandmother finally passed away, my wife started taking my mom to Christian women's conventions and with the negative influence stopped, we were able to make some ground with my mom. When she moved to be near us and started going to church every weekend, she became excited about maybe getting into women's ministry herself. This was such an exciting change.
When the worship band started singing "I Can Only Imagine," something made me look over at my mom. Strangely she wasn't singing. There was this strange look on her face as she listened intently to this song she'd never heard. I realized suddenly that this was a new concept to her. Here my wife and I had become so familiar with the concept of going to Heaven that we had different ideas and pictures in our heads. But, here, my mom was suddenly putting two and two together. She was coming to try to imagine Heaven. I'll never forget the look of wonder on her face.
That night, as my wife and I talked in bed about that morning and how excited we were for my mom, we listened to her and my daughter, now a teen, talk and giggle from the other side of the house. If I didn't know one was in her mid-sixties, I would have thought I was hearing girlfriends during a sleepover. None of us knew yet that my mom's body was betraying her.
Yes, normal skin cells were morphing into cancer cells. It was a cancer that normally should have been easily treatable. But with each treatment and cut by the surgeon, the cancer had more fresh skin to work with. She called me from the hospital 100 miles from our home and told me she wanted to come home, I contacted her oncologist. After pressing him, he finally said, "We can't do the surgery your mom needs until the cancer stops growing." Then I got him to admit that he didn't believe that would happen. So, I got her transferred to our hospital at home.
A male nurse at our local hospital, a former military medic, called me to let me know she had arrived. I asked him how she was. He didn't go into details but was obviously not happy. He finally said to me, "Mr. Hogan, we didn't treat our enemies this badly in Iraq."
In retrospect, I strongly believe that what he saw was that the cancer was spreading so quickly that all it did was make a mess that they couldn't keep up with. But at the time I went straight to the anger stage of grief and started making plans for a malpractice suit. When I presented my plan to my mom, she surprised me.
This woman, who only months before had for the first time put her faith together with looking forward to Heaven said something that it took me years to fully comprehend. Her response to my desire to lash out was to grab my hand and say, "God knew. He knew." Those were not the words of a woman in delirium. No, they were the words of a woman who knew that she would be going home soon and that despite the pain she'd been enduring for the last few months, she was and always had been securely in the palm of God's hand.
I want to encourage you that as long as you stay close to God, He will keep you safely in His hand. Life here on earth may not be fun, (an understatement) but we have eternity to look forward to. What will it look like? I have no idea. I literally can only imagine. But I do know that you and I were both made deliberately by a loving God that made us to be in relationship with Him. I've come to understand that as long as I'm in His hand, it's all good.