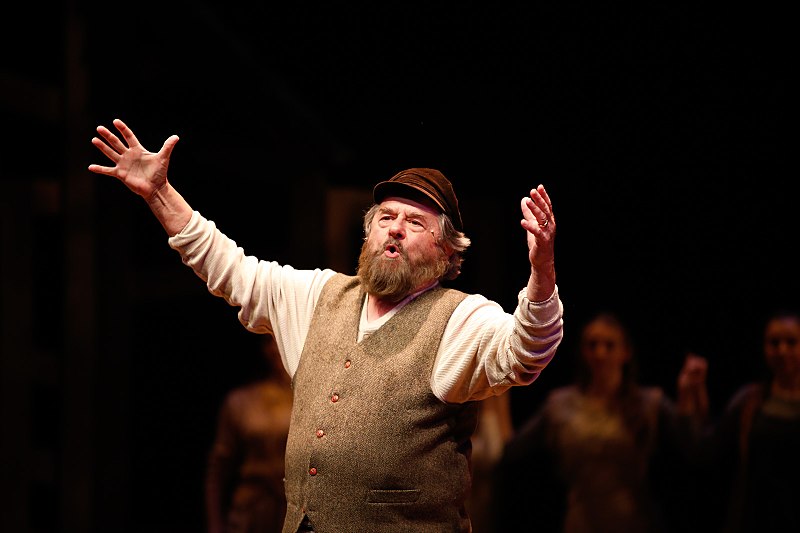 I love the 1974 movie "Fiddler on the Roof." Between 1894 and 1914 Sholem Aleichem wrote a series of stories about life in the Settlement of Pale. This was an area in Imperial Russia where the Jews were allowed to live. As a rule, they were strictly forbidden from living outside this area. Scratching out a living was tough and the government could be even crueler. Between the original writings and the hit Broadway musical and 1974 film, the stories were greatly watered down to appeal to wider audiences. As it was, critics weren't sure that the public would embrace a story that was "so Jewish". They believed that it would be hard to relate to. Thankfully the critics were wrong.
The original stories were about Tevye and his Daughters. And the main storyline remained about them. As the movie goes along, Tevye watches as his three oldest daughters each part from tradition more than the last.
The storyline that many miss though is Tevye's walk with God.
In 1st Thessalonians 5:16-18 all go together, and yet each can stand alone. Rejoice always. Pray without ceasing. In everything give thanks, for this is God's will for you in Christ Jesus.
Although the first and last parts make the middle easier, I'm not going to focus on them first.
After explaining the title of the story, "Fiddler on the Roof," Tevye is seen leading his horse which is hitched to a cart of milk and cheese. He's talking to God. he says something like "It's OK that you made me poor and gave me five daughters. But why did you have to let my horse go lame? What did he do to you?" He continues, "Sometimes I think you sit up there and wonder, "What trick can I pull on my friend Tevye?" As he gets home to unhook his horse from the cart before continuing his deliveries, he picks up the discussion again asking, "What would have been so wrong with making me a little wealthier?" Then he breaks into the famous song "If I Were a Rich Man."
This is an example of praying without ceasing. No, he wasn't rejoicing as he was grousing at God. And the command to rejoice always is woven throughout the entire Bible from early in the Old Testament through much of the New Testament. But, let's cut him a little slack as we look at the substance and importance of what he was doing.
"It's OK that you made me poor and gave me five daughters." Yeah, his tone is one of complaint and he is putting the full weight of the burden on God. But, and this is huge, he is accepting of the situation. This is the lot that God gave him and that's OK. It's not fun, but it's OK. There is an acceptance there that God is present and ultimately in control. In our first-world culture, that is so easy to forget. We focus so much on the physical and tangible of this world that there is little room for God.
But he's doing something else too. He's inviting God into every situation. Now if we believe that God already knows everything and is everywhere then isn't it a little silly that we ignore Him so often? There's nothing profound or deeply spiritual about anything that Tevye is saying, but he is simply walking and talking with God. When he is being facetious about God playing tricks on him, he quotes God as saying, "My friend Tevye." I don't think there's anything sacrilegious or overly familiar here. Instead, I think it's an extension of the conversation. Tevye is in the habit of being in the company of God. I don't see this as assuming they're equals, but acknowledging that there is a relationship there.
In my book, "How to be a Christian in Today's World: Shame or Fear of Failure vs. Living Confidently in God's Love," I relate a personal story of a time when I was physically, emotionally, and spiritually done. I had nothing left at all. Most of my days were spent just lying in bed next to my wife. I didn't talk, I wasn't on the computer, and I didn't even watch whatever she had on TV. It was all beyond me. But, my dog still had to go outside periodically.
When I took her out, I would sit on my chair on the deck and stare at the mountain across the way. Sometimes I sat there for hours. As I did, changes in light and shadow took my attention to different parts of the mountain. After a while, I found myself saying, "Hey I've never seen that rock pile before God, thanks." As I did this two things happened, my focus moved off of me and my misery. And I was inviting God in. Like Tevye, there was nothing deeply profound, just an awareness and acceptance that I was His and in His presence. At first, the change was slow, but the pace picked up pretty quickly and I allowed myself to not only return to the land of the living but to begin to rejoice again and get excited about what God had for me.
I encourage you to find times when you don't have to worry about being embarrassed because you're around other people. But find a few minutes each day to just talk to God. Talk to Him about what you're thinking, what you're seeing, etc. Maybe ask for His guidance or wisdom. You'll come up with something. You've got this.